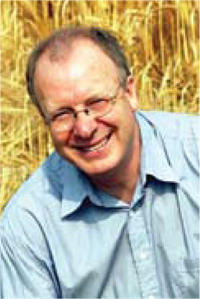 IVVER SEN ARTIST KEITH BOWEN
Keith Bowen's previous works in a similar genre include 'Among The Amish' (1996) and 'Snowdon Shepherd' (1991). The work that appears in this book was the accumulation of visits to shows, farms and various other locations in Cumbria over a five-year period. I think hill shepherds are a very special breed of people, he says.
A member of The Royal Cambrian Academy he was awarded The Gold Medal for Fine Art at The Royal National Eisteddfod of Wales. Keith has also exhibited at The Royal Academy and the National Portrait Gallery and was the designer for two issues of Royal Mail stamps. He was born and lives in North Wales.
Picture courtesy of Cumbrian Newspapers.
Buy the Ivver Sen book ►
Read more about Ivver Sen ►
Extract from the book ►
View drawings from the Ivver Sen book, by artist Keith Bowen ►