13TH OCTOBER 2008
A Day Out with Dennis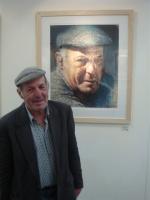 Dennis Monkhouse was resting against the bar of a Keswick pub when I thought it might be a good idea to take him out of his 'comfort zone' to see his likeness in the 'Ivver Sen' art exhibition at the Upfront Gallery, Unthank.
Dennis (see Chapter 3 of Ivver Sen, 'Amang Sheep') had not managed to come along to the official opening of the art exhibition / book launch. Perhaps all the socialization and fuss did not appeal to him. This, after all, is a lad who prefers fell and farm and a pint of beer down the local (not fussy about which particular brew) to the confines of the art exhibition and the company of art lovers and wine quaffers. Ale is more to his liking and lots of it. And, who knows, the domino season might have kicked in and you have to get your priorities right.
Any road, Dennis was happy to go along for a day out provided it was a Wednesday or Thursday (that way he would have some sneck from his pension). So we agreed to meet the following Thursday, with one other small proviso in mind.
"Will we be garn near Penrith on t' way to t' art spot?" Dennis enquired.
"Yes," I replied. "We'll ga up t" motorway from Penrith and then tek the Wigton road to Upfront."
"Good," said Dennis, "we'll be able to ga to t'sheep sale anaw."
I must admit that a sheep sale at Penrith Auction Mart hadn't been on my original itinerary for Dennis's Big Day Out, but what the heck, there you go. We agreed to meet the following Thursday at 11am near the War Memorial at Keswick's County Corner. Dennis was there on the button and was wearing one of his better cloth caps, a check shirt, pair of jeans and jacket. Casual smart, well sort of.
Enroute to Penrith we chatted about Dennis's drinking pal Ronnie Cape (see "Ivver Sen' Chapter 2 "A Hard Old Life") who had been taken into Keswick Cottage Hospital suffering from a lack of orientation. Poor lad seemed to be living in a different world but, that apart, appeared well enough physically. Hopefully he will make a recovery once he has been subjected to a regular routine of whatever treatment is necessary, hospital food and a little tlc from the nursing staff. We'll keep our fingers crossed that the lad is soon out and about again. For the time being he"s in the best place, even if it isn"t the most helpful "pub" (the one with no beer) that Ronnie has ever found himself in.
The rest of the journey to Penrith was largely uneventful with Dennis paying attention to the surrounding landscape, and the stock and farm machinery in roadside fields. But as we got to the outskirts of Penrith and drove past the auction mart there did not appear to be a lot of activity and Dennis thought that he might, after all, have got the wrong day for the sheep sale. I breathed a quiet sigh of relief.
The 'Ivver Sen' art exhibition at Upfront, Unthank, draws to a close at the end of October and has been attracting visitors in large numbers. There has been a lot of positive reaction to the exhibition and the book. I wasn't quite sure how Dennis would react to the art show but his initial response as we entered the gallery space was helped, I think, by the fact that a couple of the visitors to the gallery were from Threlkeld and knew him. So when he walked in and started looking at the images on the wall Dennis was made to feel doubly welcome. He became an instant celebrity. Admittedly there's a fair bit to go before he's invited to put his handprint in wet cement on Hollywood Boulevard but, hey, it"s a start and from small beginnings . . .
I am still not sure what Dennis actually thinks about the larger than life pastel drawings of him by the artist Keith Bowen (largely because I think I omitted to actually ask the question) but came to the conclusion that Dennis was suitably impressed because he agreed to have his photograph taken (by gallery owner John Parkinson) alongside one of the two impressive images of him on the wall. In fact Dennis looked quite chuffed. But, after a look at the other images on display, Dennis clearly wasn't for hanging round in unfamiliar surroundings and after helping me unload a consignment of 'Ivver Sen' books headed for the door and the wide open spaces of the great outdoors. I said I would meet him outside later once I had had a chat with gallery owners John and Elaine.
Reunited a little later on (Dennis had taken the opportunity to go for a stroll up the road and check out the local land and farm stock) we made our way back to Keswick pausing only at the excellent Boot and Shoe Inn at Greystoke, where Dennis enjoyed the crack and a liquid lunch while I had a smashing bowl of Mediterranean soup and an orange juice (well, I was driving). Dennis, somewhat surprisingly, was not all that fond of the Black Sheep brew and opted instead for three pints of Tetley's.
I know this report is not intended as a good pub guide but I was very impressed by the Boot and Shoe, a traditional old pub situated just off the square in the village. It was busy, always a good sign, and the food was grand. Susie, our host, a Swedish girl, used to work at a restaurant / pub in Keswick and was very pleased to see Dennis once again. We told her all about the reason for our visit, the exhibition at Upfront and so on. By the most amazing of coincidences I was delivering books to the Bluebell Bookshop in Penrith the very next day and Susie was there, looking at a copy of 'Ivver Sen' and the chapters on Dennis and Ronnie.
On our return to Keswick, Dennis, true to form, asked to be dropped off at The Twa Dogs so that he could continue his Big Day Out in celebratory mood with a few pints of Jennings Bitter. And the rest, as they say . . . is history. We've agreed to tek a second trip to Upfront before the show ends and this time Dennis says he'll mek sure there's a sheep sale on at Penrith at the same time.
I"m looking forward to that.
Joss and the fox
As readers of Ivver Sen will be aware I am writing a biography of Joss Naylor (see Ivver Sen Chapter 8 "Git on Wid it") and have been spending a fair amount of time in the company of the legendary fell runner / farmer at Wasdale Head. I have been in training (well, sort of) because I am painfully aware that at some stage I might have to actually go for a run with The Great Man.
So far our outings have thankfully been restricted to walks and fact-finding missions in and around Wasdale Head. This week we are heading further afield on a one day outing on the fells. Last Thursday we circumnavigated Buckbarrow, the fell immediately outside Joss and his wife Mary's home in Wasdale.
On the sodden mossy land at the back of the fell we came across a sheepfold and on looking into the fold a fox leapt from the rushes on the far side and onto the dry stonewall. It looked back at us and then headed off at full speed as Joss's dogs, Spy and Titch gave chase. But the fox was far too quick and elusive for the dogs and was soon well out of harm's way.
In all the years that I have walked the fells this is one of the few times that I have actually seen a fox in broad daylight. Either I am not particularly observant or the fox is a dam sight more elusive than you think.
Finally, I hope you are enjoying these monthly updates (is there anybody out there?) on life after the publication of "Ivver Sen". If you would like to give me some feedback, good, bad or indifferent my e-mail is keithr@rivergretawriter.co.uk
Don"t forget the letter r after keith. A lot of people do (forget, that is) and it"s a bugger when you"re trying to communicate and can"t. I should nivver have put it in t" fust spot . . .
Until next time
Keith Richardson
keithr@rivergretawriter.co.uk