9TH MARCH 2014
"MONTALBANO!"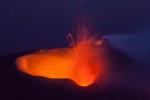 Camaraderie, sunshine, red wine, good fun among people from different nations, the small matter of getting up close to some active volcanoes and a 'brush' with a fictional detective, were all part of a walking holiday with a difference on Sicily and the Aeolian Islands.
By way of something of a difference I thought you might be interested in this report of a walking holiday I went on recently.
There is something faintly disturbing and at the same time exhilarating about looking upwards out of the designer wooden-slat blinds of your modern holiday apartment and focusing the eye on the heights of an ancient but still highly active volcano as sulphuric smoke belches out of a crater. The sense of mild unease is enhanced by the fact that your apartment is actually on the lower slopes of said volcano, in this instance Stromboli – one of a number of volcanic Aeolian Islands off Sicily and the destination for a walking holiday with a difference.
As a veteran of an expedition to Everest Base Camp in 2004, I decided some time ago that I am now very much, and probably always was, a hothouse plant, and intend to avoid any holiday that has the word cold, freezing or the message 'down jacket a must' attached to its list of requirements. But if the words sunshine, heat, shorts, cold beers, silky red wines, history, volcanoes and Mediterranean food jump out from the page then you can very much count me in.
'Sicily and the Aeolian Islands' is right up there in my 'best ever holiday list' and it is, quite frankly, difficult to imagine a better holiday of its kind, although I am prepared to try.
Yes, there were the spectacular volcanoes and scenery, the history, the sunshine and the food and drink, the daily walking with so much to take in and then there was the lava 'fireworks' special showing at night (more on that later) . . . but there was also so much else besides that made this holiday very special. Going on holiday with a group of people who have never been introduced to each other, with the exception of the couples and relatives in the mix, is always intriguing. And so much can depend on the tone set by the guide.
Everyone got on brilliantly right from the word go when our group gathered on Sicily and toured the magical Aeolian Islands for a week. And it has to be said that the very special atmosphere and happy mood of the entire holiday was set from Day 1 by our mentor, the one and only Gianluca Panarello, "Luca" for short, who was our Sicilian guide for the week. Luca was (and undoubtedly still is) an amazing personality, full of life, fun, mischief, and information and, at times, as part of his entertaining routine, wonderfully inventive misinformation. He was also highly professional and very, very good at his job as a guide, work he undertakes when not teaching for a living.
So what's all this about misinformation? Well it was all in the name of good fun.
It was Luca, after all, who tried to convince two of our party, two sisters from Hong Kong that they had to beware of wolves on Mount Etna, this information imparted as we drove towards the mountain at dead of night and during a fantastic storm with heavy rain battering against the windows of the mini bus and flashes of lightning fragmenting an already tortured jet black sky. Luca drew the line, but only just, at mentioning the Sicilian equivalent of Castle Dracula and the need to eat and wear as much garlic as physically possible.
The Hong Kong girls, Christine and Angela took it all in good spirit and were soon giving out as good as they got in their own quiet and understated, pleasingly reserved way; which made their occasional barbs all the more effective. One of several catch phrases that we adopted on tour was Christine's surprisingly direct question, uttered over dinner one night when she enquired of Luca, after he had been spoken to quietly by a friendly local waitress: "Did she say something hot . . . to you?"
Also in our group were Team Twickenham, alias the married couple Mike and Alison who spent a lot of the time singing their heads off and relating to Luca's very strong musical interests (he is also a member of a band in down town Catania) which all resulted in an increasingly imaginative and lengthy playlist of volcano-themed song titles.
The fifth member of the Mafia (sorry, group) was Philippa, an anaesthetist working out of County Durham, who I would love to write sent us all to sleep on this holiday but who was, in fact, a very lively soul of boundless enthusiasm who became the babe of the sulphuric mud bath that some of us enjoyed after descending from the heights of Vulcano. Philippa and the Hong Kong sisters – who I also called King Kong and very nearly, heaven forbid, inadvertently referred to as Ping Pong – had to hire what proved to be 1960s-style bikinis from a nearby tourist shop which specialised in volcanic and hot springs leisure wear.
Judging by the other swimwear hired for the mud bath by the more elderly male of the species they also did, in addition to ill-fitting bikinis, an embarrassingly awful line in thongs (shades of Benidorm and all that). I opted instead to spare Hong Kong blushes by donning a pair of my own walking shorts / swimming trunks. I am not quite sure if they are short longs or long shorts. But no matter, they stank so much of sulphur long after the holiday was over, and despite repeated washing and several dips in Keswick Leisure Pool that I eventually discarded them in a bin. The conservatively-minded Hong Kong sisters said they would have to kill me if I told anyone about their bikini escapade in the mud bath on Vulcano. So I'd just like to say that it's been a good life and I would like to thank my mam and dad for having me . . .
The group was completed by your's truly, a Cumbrian and a writer out of deepest Keswick who tried to teach Luca Cumbrian dialect. My Sicilian, in turn, was very poor but I promise to work on it for the next trip. And my French and my Greek and my Italian, and the Sicilian hand gestures that are so much a part of their language and culture . . . as mastered by the one and only Cosimo, our wonderfully eccentric mini bus driver on Lipari, who appeared to have taken physical gestures and mannerisms to a whole new level. What a star. But he'll have to work on his dancing.
At one point on the holiday we were joined for a short while by an eighth member of our party. This was Euro, my impromptu name for him, the little and very happy mongrel that we adopted from another walking group he had latched onto, on our descent from the summit of a mist-embraced Monte Fossa delle Felci (968m or 3,176 ft) on the island of Salina. Euro was a genuinely lovely and deliriously content little dog, clearly a stray just like others dotted here and there on the islands. Alison wanted to wrap him up and take him back home to Twickenham (where he undoubtedly would have started a riot) but who in truth probably loved his lifestyle in the sun on Montalbano's (see reference below) islands, presumably fed by the locals and walking groups to whom he attached himself without any thought of invitation. The last I saw of him (he must have gone about 200 miles backward and forward on our 900m of zigzag descent) was when we entered the beautiful little seaside village of Santa Marina after descending the mountain. He was happily trotting along a seaside promenade, shadowing a couple who were making their way to a nearby restaurant.
As mentioned in passing (above) this was all in the land of Montalbano, the name of the fictional Sicilian detective as featured in the BBC4 TV series of that name (young and old) and filmed on location on the southern side of Sicily and, on at least one occasion, in the Aeolian islands.
Every time we had a photo call – and even for those who were not part of our party – up went the cry of "Montalbano!" with a view to getting a collective smile. It invariably worked.
I actually lost a little weight on this holiday – the combination I guess of regular hiking and Mediterranean food. This was something of a miracle as I seemed to be on a mission to eat as much Tiramisu as I possibly could. And the Sicilian red wine, most of it chosen by Luca for our evening meal at various restaurants, was wonderful. The walking itself is not overly arduous and is well within the reach of anyone who goes walking regularly and can manage to top a Lake District fell such as Skiddaw.
You tend to walk yourself fit in any event but the longest we were out at any one time was six hours and it was usually closer to four. We had dinner together every night in the warmth of early October evenings and packed lunches were provided during the day.
The highlight for me was most probably Stromboli although Vulcano and its ridge walk, with spectacular views out to sea and passing yachts and ferries,
and its associated mud bath and hot springs in the adjacent Tyrrhenian Sea, were mightily impressive and came a very close second. Incidentally, we travelled between the islands on hydrofoil. The hydrofoils are fast and comfortable and a far more effective, I find, mode of transport than kitchen foil.
The mountain of Stromboli stands at about 900m and has a perpetually smoking summit. We ascended in the warmth of the late afternoon and arrived on the summit ridge just in time to see the big red O of the sun sink into the sea. As the sun went down the red-hot lava exploded, admittedly only a handful of times on our visit, from craters further down and on the flank of the volcano. Although Stromboli was quiet by its usual standards the 'fireworks' were enough to gain a distinct impression of the force of nature and the firepower that exists far beneath the shell of Planet Earth.
We all had to wear orange helmets on the summit ridge as – although I have never tried it – being hit on the head by a boulder of molten lava, known as a bomb, is not one of life's healthier options. It might have helped had the helmets not had the word 'Camp' on the front, a title that might have been misconstrued, even among a group of hard-bitten vulcanologists.
It took us about three hours or so to gain the summit ridge and only one hour 15 minutes to descend helter-skelter, like scree runners on the narrow ash path. We could arguably have got down even quicker but we clung to the narrow path and kept in Indian file, a long drawn out line of head torches bobbing along in the dark and no overtaking. It was hot work and arguably more testing than the ascent as the front of the toes and the heels took a pounding despite the softness of the ash beneath the boot.
Straight into the bar we were all ready for a welcome beer. Or four.
Stromboli, incidentally, with its narrow streets and heavily bearded and even heavier in the stomach, local fishermen, was also the location for the making of the 1950 movie of that name (Stromboli). During the filming director Roberto Rossellini and the star Ingrid Bergman embarked on a much publicised and highly scandalous – at that time – love affair and the house where they expressed their artistic endeavour bears a plaque to their lust. Sorry, love.
Our walks were equally dramatic but not as intense. All the walks we went on were good. The coastal stroll on Lipari (a welcome rest the day after the rigours of descending Stromboli by night) was spectacular with its views out to other islands we had visited earlier. There was a strong sense of Greek gods and mythology here; although Luca did try to claim that Prometheus was chained to two dramatic and spectacular pillars of rock that towered just off the craggy shoreline. The 'real' location for his punishment, eternal damnation (for giving Man fire) chained to rocks to have his regularly restored liver plucked out and eaten every day by an eagle, was, according to legend, on Mount Kazbek in the Caucasus.
So there's another little white lie from the jaws of 'The Wolf', alias the irrepressible Luca. "Did she say something hot . . . to you?"
All of which brings us to the last mountain of our holiday, Mount Etna at 3,329m (10,922ft) the highest mountain in Italy south of the Alps and one of the most active volcanoes in the world. Etna was of particular interest to me as I have always followed the life, times and travails of the poet Samuel Taylor Coleridge with interest. At one stage in his life he fled domesticity at Greta Hall, Keswick, for the Mediterranean where part of his grand tour included roaming the lower slopes of Etna. So it was mildly intriguing to follow in his footsteps; although he doubtless did not have the benefit of ascending a considerable part of the ascent first by cable car and then in a four-wheel high-sided bus.
Just when I was looking forward to doing the final part of the climb in perhaps a golfing buggy we had to get out and walk. Which came as a bit of a surprise, us being on a walking holiday and all.
The day had started clear with bright sunshine and a deep blue sky but on the mountain the cloud rolled in and was soon followed, as we hit the summit, by gale force gusts and hail stones. We did a few summit shots ("Montalbano!") and headed off the mountain. It was like walking on the moon (cue song title for Mike's play list) and was truly spectacular, especially when we stood on a vantage point looking out over a stunningly awesome valley of ash and lava stretching out as far as the eye could see.
The entire area of Etna, even the higher slopes, was somewhat bizarrely covered by millions of ladybirds which had, apparently, been borne up onto the heights of the mountain on the winds from the warmer coastal land below. I rescued one from the cold, hail and wind, just below the top, and popped it, together with the little piece of rock and ash to which it was attached, into my spectacles case. I thought it must be dead (how could a ladybird survive in the cold at 10,000 ft?) but I hoped that it might just revive in the warmth of my case tucked away in my anorak.
I had forgotten all about it until we spilled out of the public bus onto the busy pavements of the streets of the city of Catania a few hours later. The locals were already out in their thousands enjoying the ritual of their evening parade. In the warmth of the early evening, and as we were passing a square of parkland on the way back to our hotel, I remembered the ladybird, paused and opened my spectacle case. There it was, very much alive and moving around in the folds of my cleaning cloth. I gently flicked it out onto a patch of clover on the grass . . . my good deed for the day.
And my good deed on what was a very special holiday; one that will live long in the memory with special thanks to Luca (The Wolf) Panarello, the Hong Kong sisters, Christine and Angela, Mike and Alison and Phillipa.
And not forgetting Cosimo and Euro and, last but not least, Montalbano himself.
Montalbano!
Keith Richardson travelled to Sicily and the Aeolian Islands with KE Adventure. The trip is included in KE's new 2014-15 brochure at £995 for eight days. Flights are not included in the price. KE Adventure, based in Keswick in the English Lake District, is celebrating 30 years (1984-2014) in the adventure travel business. Tel 017687 73966. Or go to www.keadventure.com
Photograph of volcano on Stromboli by Mike Ferneyhough.