7TH FEBRUARY 2011
Once more unto the breach, dear friends . . .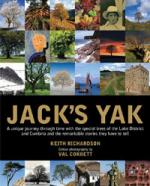 My latest book 'Jack's Yak' went to the printers this very day and the fact that I have not written a blog for the River Greta Writer website since April last year and the fact that I have, since last April, been writing Jack's Yak, preparing it for publication and / or playing a lot of cricket, are not entirely coincidental.
So it's good to be back, even though I am not entirely sure that there is a significant readership for this particular blog. So far only one person (who know who you are Val Saunders – and your fears re libraries and Government were not unfounded) has responded to my softly softly pleas for feedback over two or three years of accumulated blog writing on all things related to River Greta Writer.
Fortunately, many more people are buying and reading the books, otherwise I would be busking (very badly) in the underpass at the end of Lake Road and / or selling my soul to the devil. The latter is probably a great deal more entertaining than Lakeland on a rainy day at the beginning of February.
I am now in a position to tell you a lot more than has so far appeared on the website about 'Jack's Yak,' the book which, until recently, was a book with no name.
It was only over Christmas – about two weeks before the book went to the design stage – that the book actually got its title; a handle that comes from the oak tree of that name on the Lowther estate, yak being Cumbrian dialect for oak. Who Jack was remains a mystery. The book's designer, incidentally, is the one and only Gary Burge of Walker / Ellis Associates who operate from offices at the end of one of the most potholed 'temporary' roads in the UK (visitors to Blencathra Industrial estate will know exactly what I mean).
If you want to go to Australia, quickly, this is the road to take.
'Jack's Yak' – of which I am proud and I do hope you'll love the unusual cover – is a one off. Its beginnings were an interest in trees that goes back as far as my first attempts to climb into the branches of a tree when I was a lad. It appears that most people have a special affection for trees and I suspect it is one that is almost subliminal and, like most things, probably has its origins somewhere in childhood.
I found the idea of writing simply about trees alone far too limiting.
But if only trees had eyes what stories they would tell.
And so I hit upon the concept of writing a book with a theme line of trees and gave myself the freedom to tap into a wide range of related topics that also interested me. 'Jack's Yak' takes you on a unique journey as I follow my instinct and zoom in on areas of particular fascination. People, place, environment, history, land and sea all come under scrutiny as I throw a hopefully, novel slant on the significance of trees and their surroundings.
Extensive research on specific trees and events that surround them – some not for the faint hearted – take you into another world but one with which you can readily relate because the trees, most of which still stand, are modern day sentinels and reminders of the past and their relevance in the greater scheme of things.
The Rebel Tree at Clifton, near Penrith, resulted in a study of the Jacobite Rebellion of 1745 and the battle and bloodshed that ensued, much of it in the old counties of Cumberland and Westmorland; the spectacular windblown hawthorns on Humphrey Head, looking out over Morecambe Bay and the Levens Estuary, lead to an exploration of the Cumbrian coastline and its shipbuilding and maritime tradition – the starting point for a fantastic sea journey exploring the Cumbrian coast and extending back to Roman times when galleys sailed into Ravenglass.
The oak on the cricket ground at Lowther Cricket Club gave me the perfect excuse (did I really need one?) to write about cricket in the Eden Valley and beyond, including the Eden Valley Cricket League as a whole, its grounds and its characters, before rediscovering my own cricketing roots at my hometown club, Keswick CC.
Those are just three examples of the way in which the many trees in 'Jack's Yak' were the coat hooks on which I took the liberty of hanging a rich variety of material, information and observations, as I embarked on what was to become an amazing journey through time with the trees as signposts en route.
Also featured are the yew trees at Borrowdale and Lorton, thousands of years old and eulogized by poets; the Spanish chestnut at Muncaster Castle; Shakespeare's Oak at Kendal Green; the Robin Hood tree on Hadrian's Wall; Alfred Wainwright's rowan near Buttermere; a Scot's pine on the shores of Derwentwater; an oak near Dufton; Jack's Yak itself at Lowther; the heart-shaped wood at Tebay; the giant fir at Thirlmere; the Holker lime; trees carried away on the floods; gamekeeper David Imrie's favourite cherry tree near Newlands and more.
With one exception, the sycamore at Sycamore Gap on Hadrian's Wall, Northumberland, all of the trees are in the Lake District and Cumbria. Not all of the notable trees in this wonderful part of the world are here but I think you will find most of the more exceptional ones. I hope that the stories will enable you to see this area in a novel and unusual light . . . through words and thoughts, the lens of photographer Val Corbett's camera and, last but not least, the eyes of the trees.
'Jack's Yak' is far more than a book about trees. It is also (I believe) a fascinating, entertaining and informative book about life and is beautifully illustrated throughout with the work of the highly acclaimed photographer Val Corbett. Val's work for this book is something else and, apart from all the illustrations for specific trees, she has been given a special chapter in Jack's Yak' for a variety of other work, all related to trees.
The book will be launched – one of many launches I suspect – at The Theatre by the Lake on Wednesday, March 9 when I will be giving an illustrated talk as part of the Words by the Water Festival (Tel 017687 74411 for tickets) I'm on early at 10.15am in the Studio so better set the alarm. After that I'll be accepting drinks at the bar . . .
Keith Richardson
If you are sufficiently moved to respond to this blog please do not forget to put an r after Keith on the e-mail title. I can only think that is why I have not received many responses thus far!