1ST SEPTEMBER 2009
This one will run and run . . .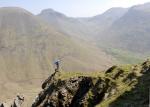 The Joss book is now in the hands of the printer, Mr Amadeus, and it has been 12 months in the writing / creation. This is the only excuse (a quite reasonable one methinks) I can offer for not penning a blog since the year dot or, to be a little more precise, April 16 this year; shame on me for leaving you all alone and blogless for the best part of five long months. And in April, full of good intentions, I promised, hand on heart, that I would give you another blog in May. Twice shame . . .
Personally, I am not entirely convinced by the blog and twitter generation. I much prefer books, hard back and full colour but then I guess 240 pages hardback is difficult to produce on a daily basis, especially if it takes a year or more to write and illustrate.
The biography of Joss Naylor, aptly entitled 'Joss' and with the sub heading 'The Life and Times of the Legendary Fell Runner Joss Naylor' (with colour photography by Val Corbett, that last bit in brackets is not part of the title) is, as I said, now with the printer Amadeus.
Last Wednesday I aquaplaned the waves of wind and rain on the M6 (this barbecue summer indeed) en route to the printer's HQ on an exotic industrial estate in Cleckheaton, near Bradford, to see the first pages off the press in the company of Mr Amadeus himself, the enthusiastic and ever helpful Richard Cook. The Amadeus Press, for the record, is the full name of the printers and Richard is the MD with special responsibility for books.
Richard was there on July 7 with the design team from Walker Ellis Associates (Gary Burge and Tim Walker) when River Greta Writer's first publication, 'Ivver Sen' won The Lakeland Book of the Year award 2009 at The Old England Hotel, Bowness on Windermere. It were wot Richard would describe as a 'reet grand do.'
Richard and I, incidentally, have a lot in common – a fondness for cricket and good fish and chips, although he supports Yorkshire and I back Durham every time. I also, if truth be known, probably prefer haddock to his cod.
I was, of course, delighted that 'Ivver Sen' won and it was fantastic to receive the main prize from Hunter Davies who wrote those wonderful books about The Beatles and Tottenham Hotspur. Hunter is a thoroughly lovely man who somehow manages to spend the summer in the lakes (quite literally bathing in Crummock Water) and his winters in London or the Caribbean. The latter probably explains why he is always an envious shade of chocolate whenever you bump into him on the rain-washed Market Square in deepest Keswick, bouncing in and out among the tourists like the ball on a pinball machine. What's he doing there? Researching his next book on museums, that's what.
Of late my thoughts have turned to storage. I have found it's a good idea if you are publishing a book to try and ascertain if A) your house is big enough to house 3,000 / 5,000 copies, 10 books to a box; B) your flooring is strong enough to withstand the strain if you have to put some of those very heavy boxes in an upstairs bedroom because your living room is already full to busting from floor to ceiling and C) you really do want to share your house with 500 boxes. It can be inhibiting.
The other day I found a granny and a dog in opposite corners (they'd been there since last September apparently) and after twice emptying my living room of copies of 'Ivver Sen' I came to the conclusion that I would rather store my books elsewhere. Storage King at Embleton have come to the rescue. I thought you ought to know that. It's all part of the practicalities of setting up in publishing and is essential information.
I have to say that I am very, very happy with Joss the book and I think you will be too. Val Corbett's photography is stunning and the writing isn't bad either. In fact the entire publication is brilliant; but them I'm biased!
Joss Naylor's pedigree as a fell runner is undeniable but there is much more to the man. In addition to his considerable exploits in the world of running, the biography brings to the fore other areas of Joss's remarkable story . . . including his hard childhood and upbringing on a Lakeland hill farm in the wilds of the Wasdale Valley; the crippling back injury he suffered as a boy, an injury that has plagued him all his life and has given him an incredible pain threshold.
Here also is Joss the shepherd, the family man who loves his environment with a passion and who holds strong opinions on the Lake District of the 21st Century. The book takes you into Joss's world and it is a fascinating place to be. Chapters are devoted to Joss and his working dogs, to the tradition of dry stonewalling, which he has transformed into an art form, and to the time he spends in Spain.
As well as Val's spectacular colour photography the book has evocative black and white images from Joss's childhood and his early days as a runner. This wide-ranging book is more than a biography about Joss Naylor the runner, the hill shepherd and the man, it is also a social history and, in many respects, a tribute to Lakeland, its people and that band of hardy souls who are proud to call themselves fell runners.
The book cover and design are sensational. The central image is taken from a Seventies photograph, by the late Brian Duff, of Joss leaping across the rocky outcrops along the shore of Wastwater. It is very graphic and almost retro but is very direct with Joss quite literally leaping off the page. Judge for yourself come September 26 when 'Joss' is launched on an unsuspecting world.
'Joss' is a hardback book and has the same dimensions (page size) as 'Ivver Sen' with the exception that 'Joss' is 240 pages as opposed to Ivver Sen's 208. So you get more pages for the same price (£25). It can't be bad. If you'll excuse the truly awful pun, I believe that Joss the book will run and run . . . (ouch!)
Being so close to the book for the best part of 12 months it's good if you can spend the time that the publication is at the printer distancing yourself from it so that when the finished product arrives at Storage King and is unloaded off the back of an articulated lorry (that's a vehicle with no shortage of communication skills) it's nice to break open a box, carefully lift out a copy and open the pages of a pristine book; pretending all the time that it is something entirely new, previously unseen. And you then try to be objective about what you see. This is the moment, above all others, when it hopefully gives you a buzz and sends you, book in hand, to Bar 26 on Keswick's Lake Road for a celebratory / reflective lunch.
And then you enter the world of marketing, promotion, reviews and distribution (not necessarily in Bar 26) and, at the same time, formulate ideas and plans (ongoing as ever) for subsequent River Greta Writer publications. Two more books are at the planning, formulative stage at the moment (one may take up to two years to research and write) while the other should be published in September 2010. But more about those at another time . . .
In the meantime I do hope you can make it to The Theatre by the Lake in Keswick on Saturday, September 26 (4pm – 6pm) for the public launch of 'Joss' when I will be giving an illustrated talk in the Main House and, in the second half, writer and broadcaster Eric Robson will interview Joss himself on stage. A book signing session will follow.
Tickets are £10 and the proceeds from the event – kindly sponsored by Invest in Cumbria –will go to Eden House Children's Hospice (an integral part of Eden Valley Hospice). Tickets can be bought through the theatre box office (017687 74411) or online at www.theatrebythelake.com
The last time I asked there were, as the saying goes, not many tickets left, so please don't delay or you could be disappointed.
As ever, it's good to get feedback about River Greta Writer and its publications or, for that matter, good fish and chip shops up and down the land (my top tips are The Seafarer, Bowness on Windermere or The Chippybank, Ulverston). E-mail me on keithr@rivergretawriter.co.uk Until the next blog, farewell.